Like all other "survey" related tasks, measuring and annotating wall attenuation starts with marking up a floor plan. While the tiny print makes Figure-2 a little difficult to read, hopefully an explanation of what you're viewing will help you understand the tasks that were performed.
Most experienced Wi-Fi engineers will tell you that there's no replacement for an on-site RF Site Survey, and I agree. There are times when time and/or costs prevent performing a full on-site RF Site Survey, and in those cases, having loss measurements for various walls throughout a facility can greatly enhance the accuracy of a predictive survey. With predictive surveys, you only get good data out when you put good data in.
Figure-2 below was created with Readdle's PDF Expert 5 application for iPads as shown in Figure-1. I requested a feature for this software that allows text boxes to be rotated into any orientation so that annotations on a floor plan would be easier.
Figure-1

Figure-2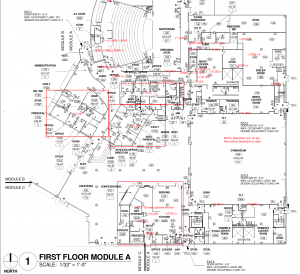 In Figure-2 above, you are observing the following:
Notes are denoted as "NOTE" followed by the text
Squares surrounding a general area denote that all of the walls in this area are similar or identical
References to a legend of construction materials, photograph numbers, wall attenuation measurements, measurements between two points, and the areas where measurements and photographs were taken.
The legend I created is listed below and seems to have worked quite well. PDF Expert 5 was well-suited to these types of notations (with the one feature limitation I mentioned above), and proved quite useful. It's VERY important to note that when you are ready to export your map to a PDF for use with PDF readers, you will need to FLATTEN the file (which means to blend all of the layers together into a one-layer document). Otherwise, no other PDF viewers will be able to read it.
The Tools
An engineer's tools are usually a personal choice, but I've found some pretty handy tools that I would like to share. First, you need a steady RF signal source. Some important features of the RF signal source are:
Small (handheld)
Dual band (2.4GHz + 5GHz)
Near instant-on, instant-off
In the past, I've used the Fluke Linksprinter 200 (2.4GHz only), but the importance of testing for 5GHz attenuation cannot be overstated. For this reason, a small, battery-operated, fast-booting, dual-band AP is needed. I am still looking for "the perfect AP" for this purpose, but so far, I've temporarily settled on the Buffalo AirStation AC433.
Second, you need a high-quality, handheld, dual-band device for taking measurements. I haven't found anything that does this as well as the Fluke AirCheck Wi-Fi Tester. It's basically the perfect tool if you're willing to burn ~$1600 USD. Of course, it's great for many other Wi-Fi engineering tasks. 🙂
Third, you need something that allows you to import and annotate a floor plan that can be carried around with you…unless of course you want to use a pencil and paper maps. I've done both, but it sure saves a ton of transcribing time to annotate a PDF map on the first pass. I use an iPad Mini and Readdle's PDF Expert 5 for this portion of the task. It's imperative that you create a shorthand legend to work with during measurement/annotation because there's simply not enough room on most floor plan maps for writing out full descriptions. I've included my basic legend below, that may serve as amusement for some folks, but it works OK for me.
Finally, you need something for taking pictures. I simply use the iPad Mini for this task since I already have it with me. Tying pictures and annotations together is a tricky task, and you may come up with a way that works best for you. I've found that if you're moving between maps (whether floors or buildings), you will need a way to indicate to yourself later when you made the transition. This way, the worst confusion will be where a photo was taken within a floor or building. You will never have to worry about "which floor" or "which building". The first time I did this, I literally took a picture of my feet every time I made a transition. Silly, yes, but I couldn't think of anything better at the time…and I still haven't thought of anything better. 🙂 Any help in improving this process would be appreciated.
Once you've been on-site and recorded the data and taken the photographs, wrapping it all into a report can be a time-consuming task. Additionally, you may want to name your photos with a naming convention before annotating them on the PDF floor plan document.
My Shorthand Legend
> or < points exactly at the wall measured when used with (*X) and (X)
> or < indicates that the picture was taken of this precise area
>> or << indicates that the picture was taken in this general area or direction
~> <~ Used to note a measurement between two points
I-XXXX indicates the image number associated with the wall measured
NOTE: Indicates an important characteristic of this environment
(X) indicates the amount of dB loss
(X + Y + Z) indicates that the wall was X, something on one side was Y, and something on the other side was Z. These three are additive for the entire wall (or most of it such that no area on the wall should be counted as just the wall's loss).
BOX Areas with a red box around them indicate that this general area has very similar building characteristics
(*1) Cinder block
(*2) Cinder block, extra thick (2-3 blocks thick)
(*3) Cinder block + wall lockers
(*4) Cinder block + brick
(*5) Cinder block + wall lockers + brick
(*6) cinder block + tile facing
(*7) Cinder block + wall lockers + tile overlay
(*8) Cinder block + indoor bleachers
(*9) Cinder block + poured concrete
(*10) Cinder block + glass display
(*11) Cinder block + wood shelving on each side
(*12) Cinder block + wood cubbies for young children
(*13) Cinder block + drywall
(*14) Cinder block + dry wall+ wall boards on one or both side(s)
(*15) Cinder block + wall boards on one or both side(s)
(*16) Drywall
(*17) Drywall + wood paneling overlay
(*18) Drywall + wood cabinets on one side of the wall
(*19) Drywall + poured concrete + rock/pebble facing
(*20) Poured concrete wall
(*21) Poured concrete wall + wall lockers on each side
(*22) Poured concrete walls + stocked storage shelves
(*23) Brick wall
(*24) Temporary wall (false wall) used to divide one room into two
(*25) Floor-to-ceiling steel roll door
(*26) Fire doors
(*27) Brick wall + wood paneling + filing cabinets
(*28) Glass wall
(*29) Windows with wire mesh
Summary
In some cases, facilities may not be constructed nearly the way you think they are, and gathering this kind of data can mean the difference between an accurate predictive survey (and thus an effective network design) or the very opposite. While this process can definitely take some time, the results can definitely be worth it.
Please feel free to share your ideas, feedback on this methodology, or other!